Pokémon Diamond redirects here. For the Pokémon game by Game Freak, see Pokémon Diamond and Pearl on Wikipedia.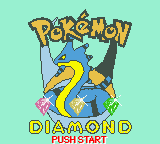 Pokémon Diamond and Jade are two versions of the bootlegged version of Keitai Denjuu Telefang 1. The Power Version was used to make Diamond, and the Speed Version became Jade. Along with a Chinese version, a partly-translated German one also exists.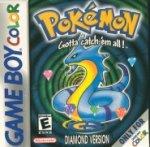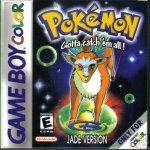 The monsters and the boxarts for both Pokémon Diamond and Jade depict a monster non-existent in the game, and seemed to be created entirely for the sake of a boxart. For Pokémon Diamond, the monster looks like a modified Dratini or Dragonair, while for Jade it is an altered version of the forest spirit Shishigami, from the anime Princess Mononoke. On some boxes, the back is copied from real Pokémon games, sometimes with fake screenshots and pictures of the same fake Pokémon that appear on the front of the box, as well as pictures of real Pokémon. There are many different variations of these boxes for different copies of the game, though this is typical of pirated games.[1]
Cartridges
Edit
For both Pokémon Diamond and Pokémon Jade, the cartridges are unlike legitimate Game Boy cartridges, and like the boxes, different variations of these cartridges exist.[1] [2] Most of the art on the cartridges are taken from the boxes of their respective games. Also, one type of Diamond cartridge has a nonstandard white casing, and Jade has a nonstandard green translucent casing. There are other Jade cartridges with black casings, just like other Game Boy Color games that are compatible with the original Game Boy. Also, like other bootleg cartridges, some of these cartridges say either "GAME" or "GAME COLOR" on the top instead of the usual "Nintendo GAME BOY™" that is on authentic cartridges.
Sometimes, either Diamond or Jade is bundled with a pirated Pokémon Crystal, which, like Diamond and Jade, is unofficially and poorly translated from the Japanese version (most likely before Crystal was released outside of Japan), and has glitches not present in the original version. Also, some cartridges have both Diamond and Jade in one.
Translation
Edit
The translation has a reputation of being very poor. It is notorious for its Engrish with quotes such as "Some points of 4 lost!" Nearly all the characters' and Denjuu's names change in translation.
For example, Shigeki becomes Bek. Crypto becomes Kuribute. T-Fanger, a term for people who use Denjuu, becomes T-Mildew, Milde-T, and Mildew-T. Another notable characteristic of this translation is the abundant swearing.
Bugs and Glitches
Edit
Main article: Glitches
The bootleg version contains numerous glitches, which is the reason why it is so notable.
When Pokémon Diamond and Jade were first pirated, it was fairly common to find these games on auction sites such as eBay to trick people into thinking these games were "rare Pokémon games." Due to the fact that these games are fake, and are illegal to sell, they were banned from eBay long ago. As a result, they are much harder to find than they were before. Nevertheless, copies of these fakes can still be found from time to time.
References
Edit
↑

Verified with VisualBoyAdvance's Memory Viewer and Frame Advance features
Community content is available under
CC-BY-SA
unless otherwise noted.